Fairfield Church 10th June 2018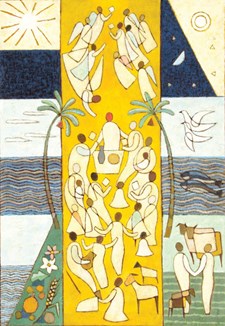 Prior Notice: June 17th is our big Confirmation Service at St. Peter's and as two of our own will be confirmed that day we are all going to support them at St. Peter's.  The service starts at 10 am and we will be joined by Bishop John who will lead the proceedings.  This means, that we will not be at the Hall, so please come and help us celebrate at the Church (opposite Lidl)
This week at Fairfield Church (yes, we are at the hall THIS coming Sunday) we are being led by Team Rowell and as usual they've chosen some fab worship songs and set some challenging questions, which are below.
Our Reading…
2 Corinthians 4 v 13 to 2 Corinthians 5 v 1 New Living Translation
13 But we continue to preach because we have the same kind of faith the psalmist had when he said, "I believed in God, so I spoke."[c] 14 We know that God, who raised the Lord Jesus,[d]will also raise us with Jesus and present us to himself together with you. 15 All of this is for your benefit. And as God's grace reaches more and more people, there will be great thanksgiving, and God will receive more and more glory.
16 That is why we never give up. Though our bodies are dying, our spirits are[e] being renewed every day. 17 For our present troubles are small and won't last very long. Yet they produce for us a glory that vastly outweighs them and will last forever! 18 So we don't look at the troubles we can see now; rather, we fix our gaze on things that cannot be seen. For the things we see now will soon be gone, but the things we cannot see will last forever.
New Bodies
5 For we know that when this earthly tent we live in is taken down (that is, when we die and leave this earthly body), we will have a house in heaven, an eternal body made for us by God himself and not by human hands.
Questions for discussion
1. Why may I feel like giving up when life ( or church) seems tough? Can knowing Jesus make a real difference?
2. The passage says that " our present troubles are small" . In reality do we feel that this is the case? If so, why?
3. Is the future certain to be better?