Fairfield Church 16th September 2018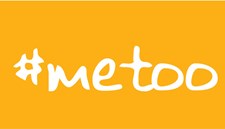 Well here we are heading to our second week back in the newly altered hall.  It was so good to be back last week and see the changes.  The first thing I noticed was we have stairs!  Wow!  We are also being given our own cupboard for storage in what was termed – the room to the bell tower… we just need some new bell rope and we can start calling people to worship in an age old tradition.
I expect you're wondering why we have the #metoo logo on our page.  I think you will find that it is connected to our reading this week… see below.
Pete and Julie Rowell are the team leading us this week – feeling relaxed after their holiday and ready to go!
Mark 8 verses 27 to 38
Peter's Declaration about Jesus
27 Jesus and his disciples left Galilee and went up to the villages near Caesarea
Philippi. As they were walking along, he asked them, "Who do people say I am?"
28 "Well," they replied, "some say John the Baptist, some say Elijah, and others
say you are one of the other prophets."
29 Then he asked them, "But who do you say I am?"
Peter replied, "You are the Messiah.[b]"
30 But Jesus warned them not to tell anyone about him.
. Jesus Predicts His Death
31 Then Jesus began to tell them that the Son of Man[c] must suffer many
terrible things and be rejected by the elders, the leading priests, and the
teachers of religious law. He would be killed, but three days later he
would rise from the dead. 32 As he talked about this openly with his
disciples, Peter took him aside and began to reprimand him for saying
such things.[d]
33 Jesus turned around and looked at his disciples, then reprimanded
Peter. "Get away from me, Satan!" he said. "You are seeing things merely
from a human point of view, not from God's."
34 Then, calling the crowd to join his disciples, he said, "If any of you
wants to be my follower, you must give up your own way, take up your
cross, and follow me. 35 If you try to hang on to your life, you will lose it.
But if you give up your life for my sake and for the sake of the Good
News, you will save it. 36 And what do you benefit if you gain the whole
world but lose your own soul?[e] 37 Is anything worth more than your
soul? 38 If anyone is ashamed of me and my message in these adulterous
and sinful days, the Son of Man will be ashamed of that person when he
returns in the glory of his Father with the holy angels."
Discussion questions
 Imagine that you were Peter at that time and you heard Jesus say that he would suffer
and be killed. How would 

you feel?

When you hear the words of Jesus to Peter in this passage, do you think that Jesus was justified in speaking like this?

How can we see things from God's view rather than our own?