Fairfield Church 4th November 2018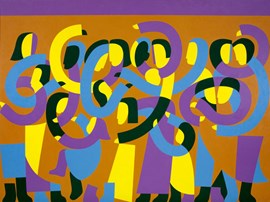 You will not believe what the reading is this week Fairfield Community!  See below… It's almost as if it was all planned out before us, imagine eh!…. oh how I did laugh when I saw it!
We had an amazing Retreat Day at Holland House, with many thanks to Ian Spencer for leading us so beautifully… Tey Tey Malkutakh… Thy Kingdom Come.
It is so good that as a Church family we have a unified vision of our mission in the community we live in and worship in and move in.  Doing one thing really well… here we go!  Exciting times ahead…
This week we welcome Rev. Julian once more to lead us through our First Sunday Communion – no questions this week, we get to hear the wisdom of decades of ministry and we're very much looking forward to it.
The Reading this week is taken from NRSV
Mark 12:28-34

 

New Revised Standard Version (NRSV)
The First Commandment
28 One of the scribes came near and heard them disputing with one another, and seeing that he answered them well, he asked him, "Which commandment is the first of all?" 29 Jesus answered, "The first is, 'Hear, O Israel: the Lord our God, the Lord is one; 30 you shall love the Lord your God with all your heart, and with all your soul, and with all your mind, and with all your strength.' 31 The second is this, 'You shall love your neighbor as yourself.' There is no other commandment greater than these." 32 Then the scribe said to him, "You are right, Teacher; you have truly said that 'he is one, and besides him there is no other'; 33 and 'to love him with all the heart, and with all the understanding, and with all the strength,' and 'to love one's neighbor as oneself,'—this is much more important than all whole burnt offerings and sacrifices." 34 When Jesus saw that he answered wisely, he said to him, "You are not far from the kingdom of God." After that no one dared to ask him any question.
New Revised Standard Version (NRSV)
New Revised Standard Version Bible, copyright © 1989 the Division of Christian Education of the National Council of the Churches of Christ in the United States of America. Used by permission. All rights reserved.