Fairfield Church 16th December 2018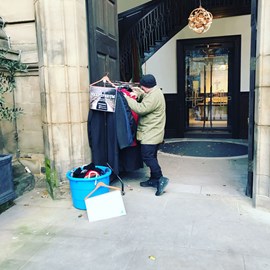 This week we welcome Peter and Julie Rowell to lead us into Advent week 3 and they've chosen some fab songs this week.  
Just to remind you that the week following we are having our Carol Service with mince pies for breakfast!
You will have to forgive the formatting this week, WordPress have updated to version 5 and everything about the dashboard has changed so I'm having to relearn it all over again.  So slightly different order this week – our YouTube playlist is now at the end and once I learn how to post it under the introduction I will!
The Readings are: 
Reading 1: Isaiah 12 v 2 to 6
See, God has come to save me.
I will trust in him and not be afraid.
The LORD GOD is my strength and my song;
he has given me victory."
3 With joy you will drink deeply
from the fountain of salvation!
4 In that wonderful day you will sing:
"Thank the LORD! Praise his name!
Tell the nations what he has done.
Let them know how mighty he is!
5 Sing to the LORD, for he has done wonderful things.
Make known his praise around the world.
6 Let all the people of Jerusalem[a] shout his praise with joy!
For great is the Holy One of Israel who lives among you."
Reading 2: Luke 3 v 10 to 18
10 The crowds asked, "What should we do?"
11 John replied, "If you have two shirts, give one to the poor. If you have food, share it
with those who are hungry."
12 Even corrupt tax collectors came to be baptized and asked, "Teacher, what should we
do?"
13 He replied, "Collect no more taxes than the government requires."
14 "What should we do?" asked some soldiers.
John replied, "Don't extort money or make false accusations. And be content with your
pay."
15 Everyone was expecting the Messiah to come soon, and they were eager to know
whether John might be the Messiah. 16 John answered their questions by saying, "I
baptize you with[d] water; but someone is coming soon who is greater than I am—so
much greater that I'm not even worthy to be his slave and untie the straps of his sandals.
He will baptize you with the Holy Spirit and with fire.[e] 17 He is ready to separate the chaff
from the wheat with his winnowing fork. Then he will clean up the threshing area,
gathering the wheat into his barn but burning the chaff with never-ending fire." 18 John
used many such warnings as he announced the Good News to the people.
Reading 3: Philipians 4 v 4 to 7
4 Always be full of joy in the Lord. I say it again—rejoice! 5 Let everyone see
that you are considerate in all you do. Remember, the Lord is coming
soon.[c]
6 Don't worry about anything; instead, pray about everything. Tell God what
you need, and thank him for all he has done. 7 Then you will experience
God's peace, which exceeds anything we can understand. His peace will
guard your hearts and minds as you live in Christ Jesus.
Discussion questions
1.What is joy? Is it the same as happiness?
What relevance do these themes have in our society today?
(both those mentioned in Luke and Philipians)